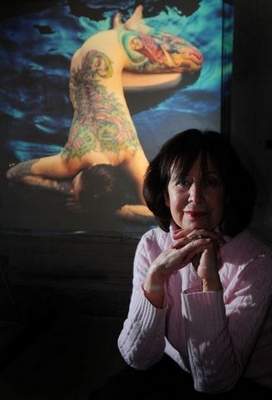 Janice Urnstein Weissman is an accomplished artist. Her journey through life is that of a serious fine art painter and teacher. She grew up in St. Louis, Missouri after World War II, during a time when her life consisted mostly of searching for truth and beauty. Her education was directed toward the achievement of a BFA Degree from the Kansas City Art Institute and an MFA degree from the University of Cincinnati . She was selected from her undergraduate class to receive a scholarship to the Skowhegan School of Painting and the University of Cincinnati graduate program.
Janice started her artistic career as a classical painter utilizing Impressionistic techniques. She has evolved since the 1960's into a style of Realism. For the past eleven years, she has been exploring tattoo sub-cultures for the purpose of documenting the phenomenon she refers to as "Living Canvases." She does in-depth research into the messages that many of the full-bodied tattooed models are trying to convey with their body art. She is considered a pioneer in conveying the philosophical and mystical stories of the body on her canvas. Janice has shown her work in Los Angeles, Toronto, Israel, Milan, Paris, San Francisco Miami, Chicago, Missouri, and New York. Her work has been acquired by serious collectors and museums. Further, her art has been reviewed by major art periodicals such as Art Week, Art in America and American Art Collector.
In addition to being a serious painter, Janice has devoted a major portion of her career to teaching at the college and high school levels. Currently her teaching has been centered on helping high school students strengthen their portfolios in order to get accepted by art schools and universities with major art programs. She has been very successful in getting her students accepted by some of the most prestigious art programs in the United States. Janice Urnstein Weissman has dedicated over 40 years of her life to perfecting her craft as well as being a beacon for future generations of young artists. She is married and resides in Los Angeles, California.